Posted by bb on Monday 12th of March 2007 at 11:38 am;.
Filed Under News
Especially the nice shiny new XP I have now … check out the new desktop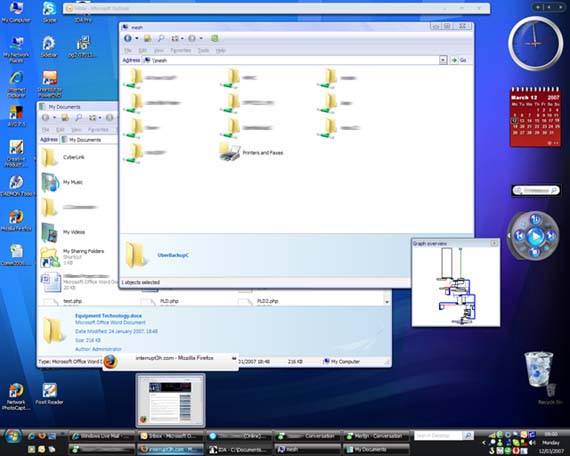 Click for full scale shiny goodness 🙂
100% speed of XP, 90% functionality of Vista. Everyone's a winner! w00t as they say on IRC 🙂
Check out some of the lovely features – the sidebar with nice Aero style icons, the preview of the firefox page (looks like someone is browsing the best blog ;)), natty new icons and the improved information bar at the bottom of each window. All of this for $0, 0€ and £0! How can you go wrong guv'nor?
It's a deal, it's a steal, it's the sale of the freakin' century!
So what about those gadgets on the sidebar? From top to bottom we have a nice month at a glance calender, a torrent search engine, WMP and a new recycle bin. You can also pin the preview of the page to the desktop so you don't have to alt-tab to it each time to see what is happening.
You'll also notice the nice shadows on the windows, and if you see the outlook bar at the top of the picture, it's reduced to its title bar by a simple right click. I'm loving it. pah dah da da da!
That's not to say it is without fault but this stuff is still in its infancy. The sidebar is not 100%, it is still a little glitchy, but 1.8 will be out soon (I'm running 1.7.8) and hopefully some of those problems will be fixed. The toolbar also likes to be only 1 bar high, change it to 2 and some windows don't line up correctly. Auto-hiding the taskbar seems to fix this albeit a temporary fix.
Apart from that, it just looks nicer. I don't know whether it is because you get bored after looking at XP for so long but I find it quite pleasant to sit in-front of for extended periods of time. The new sounds, the new look and feel, nice new icons and toolbar customisation – all together add up to a really nice user experience. I don't know if I would have gone to Vista before SP2 (though I'm bloody sure it wouldn't have been Vista x64) but I know now I won't be. What for?
<obGeek> Oh – and the little graph … well, those who know, know 😉 </obGeek>
Comments