Posted by bb on Wednesday 11th of July 2007 at 11:59 am;.
Filed Under News
Well it's all ordered. Rather than go for an off the shelf solution, Merlijn and I decided to spec it out ourselves and build my new server ourselves. With Inferno's help when they come over later this month.
After the previous server fiasco, this is of course a risky strategy but I think we have t3h sk1llz to pull this off.
We set ourselves a budget of £5k (exc VAT) and for that – this is what we have managed to get with a little bit of wheeling and dealing :
Dual Xeon 2Ghz
16Gb FBDIMM PC2-5300 RAM
5Tb Caviar Storage
300Gb OS drives [Raptors]
1Gb Switch
2200VA Rackmounted UPS
Hardware firewall with VPN
Adaptec 16 port RAID controller
8 Port KVM
Sound-proofed 15U Cabinet
and much much more ….
I would like to claim a slightly larger role in designing this than I really had, however most of the research and effort was put in my my good pal Merlijn. His wizardly google-fu helped track down the best bang for buck (at least we like to think so) and checked to make sure everything was compatible and would talk to each other. Unlike me who kept wanting to scrimp on stuff like drives, motherboards, memory- just so I could go Quad Core instead of Dual Core. So thanks for keeping me on the straight and narrow. <mutter><mutter>
As it all turns up, I'll be taking some photos – I'm hoping it will look a little like this :
But since I'm helping put it together, I'm guessing it will probably look more like this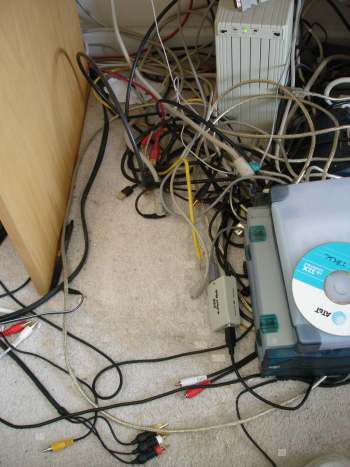 At least I will have Inferno and Merlijn here to help me put it back together and fill in the warranty forms!
I'll take pictures of the stuff when it arrives and try and keep this bit up to date as we work on bringing UberServer online around the 23rd of July. I hope. Else perhaps this blog will serve as some sort of testament as to how come there is now a very large crater where my office once was!
I will also, as is my wont, moan and bitch about the bad suppliers but for one week only I will also be praising those suppliers that go above and beyond the call of duty. To start with I would like to thank Chris over at TMC for his help with our server chassis that we ordered from them.
Very sexy little number – but Chris has been very helpful, offering to throw in all sorts of cables that we (read:me) may well have forgotten about. So here is my plug for TMC.
If you need a server chassis, or any other high performance server and storage building blocks – call Chris at TMC.
There – who says all I do is moan on this blog.
Fucking knee jerk reactionary government lickspittles.
That feels better 🙂
Comments